Looking For Air Conditioning in Marietta, GA?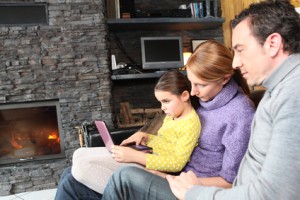 What do you want out of your Marietta HVAC Contractor? Most homeowners go for air conditioning because it cools down homes. If yours isn't cooling down your home, then you're losing money running it. Call DR Cool if you need more information on how you can save more money with a cool running AC. Our Air Conditioning Company is sure to get your home comfortable again.
Marietta Air Conditioning
There is a lot that you should know about your air conditioner. For example, did you know that you should change the filters when they get dirty? A dirty filter will prohibit your cooling unit from working properly.
What else should you know about your Marietta air conditioning? You should also know that you should never close off rooms whenever trying to isolate the AC in your home. Closing too many doors will cause the central unit to become unbalanced.
If your AC unit isn't pulling its own weight around your house, then you may want to consider an upgrade. According to federal law, all current AC units must be more efficient than they were 10 years ago. Why not call DR Cool to take out the old and replace with the new?
Marietta AC Repairs
Cooling down your home uses energy. The bigger the home that you have, the more energy that your AC unit is going to use. You can always prevent those high energy bills before they even hit your mailbox by calling DR Cool.
DR Cool can eliminate excessive air conditioning repairs with one simple tune-up. An AC tune-up will change the way t hat you think about your home's AC unit. A tune-up will preserve you air conditioner unit. If yours is older, this is the best way to keep it going.
Also, an air conditioning tune-up will alert you to any repairs that your cooling system needs. Our technicians are specifically trained to pick up on any repairs or damages that you're going to be in need of. Have yours done today by licensed technicians.
Marietta Heating repairs
Why are heating repairs vital to your home? Well if you've ever struggled through a Georgia winter, then you know that you need a working heating unit. Don't let your guard down this year. Winter last a very long time and gets mighty cold.
If you're like most Americans, you rely heavily on heat during the winter. A broken heater can lead to your pipes freezing up. Frozen water pipes can burst and cause major problems within the home. Call
the Marietta air conditioning company for more details on how you two can benefit from heating repairs.

Marietta, GA
What Marietta Homeowners Are Saying About Us
Dr Cool is Rated: 5 / 5
based on these 4 happy customer reviews.
---
"Great service. I live in East Cobb. Lots of options. Only one choice for me. Dr. Cool! Check out my system and made great suggestions for saving money on my power bill! Would highly recommend."
---
"Very good people here"
---
"This is the third time Dave has been out to service my Hvac systems. Quick service and very reasonable prices. Always professional, knowledgeable, and dependable."
---
"I own a home and commercial security and surveillance company. I had Dr Cool come out and change out thermostats in a office complex(upgrades to "Smart" thermostats). When he got their he went out of his way to look over the system. He called me down to the furnace to show me a terrible wiring job."
---
Recent Articles
3 Important Reasons To Invest In A Furnace Tune Up This Fall

When it comes to important mechanical devices around your home, if your furnace doesn't immediately pop into your head near the top of the list, then it might be time to reconsider. Your furnace is an incredibly important feature in your home, especially now that fall is upon us and winter is just right around...

Read More
Heating Repairs – Taking Care of Business

When it comes to keeping your family warm in the winter your first priority should be taking care of heating repairs. If you already know you need minor fixes then it is your responsibility to get these taken care of. Remember that the need for minor repairs can lead to big problems if left ignored....

Read More
If you are looking for a Marietta Air Conditioning Company then please call 678-952-2323 or complete our online request form.