Fast and Friendly Emergency Air Conditioning Services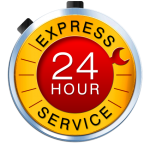 Air conditioners could stop working for nearly reason, and it could happen at almost any time. Your air conditioner is most likely going to break down when it's being the most, which is when you need it the most: during the hottest parts of the year. If your air conditioner stops working while the temperatures are 90° F or higher, it could leave your family in an uncomfortable and an unsafe situation.  That is why we offer our emergency AC services.
When outdoor temperatures are at their peak highs, keeping your home cool isn't just a matter of comfort and convenience. Often, if you're without cooling during this time, it can become a safety and health concern for you and your family.
If your AC ever breaks down, the professional heating and cooling contractors at Dr Cool can provide you with prompt and professional emergency services. We understand that you can't always wait for a scheduled appointment, and often, you can't even wait for regular business hours to resume, so we are always ready and eager to take of any problems that you encounter. Our Air Conditioning Contractor is available 24/7 to help you make sure that your AC is completely functional.
Quality Repairs, Quickly
When problems with your home's air conditioning system occur, you need quick service. However, you also need that service to be completely reliable. Our professionals are always ready to provide you prompt and professional repairs. When you request emergency AC service, we'll be on the job as quickly as possible, and we'll provide you with thorough and accurate repairs.
We'll take care of the problems as quickly as possible, but we'll never sacrifice the quality of our work in favor of a speedy job.
Our Emergency AC Repair Specialists
All of the HVAC contractors at Dr Cool are licensed, trained, and experienced professionals. We'll always be able to provide you with excellent work, no matter what services you need, or when you need them.
We'll be able to diagnose any problems with your home's air conditioner quickly and accurately, then we'll make sure that they're thoroughly repaired. You depend on our professional AC repairs contractors to make sure that your cooling system is kept in excellent condition at any time, day or night.
Preventative Care for Air Conditioners
The best way to make sure that you're never in a an emergency situation with your air conditioning system to have have to preventative maintenance regularly performed by a professional. Our AC specialists offer many regular maintenance services to help you keep your home's air conditioner in great condition at all times. We'll be able to eliminate any problems with your AC before they turn into major issues.
And if and when you do need emergency repairs for your AC, you can also depend on our professionals.
Recent Articles
How To Prepare Your Air Conditioner For Summertime

Summers can get hot in Dallas, Georgia. Now is the time to prepare your home for the rising temperatures before the hot weather sets in. Conditioning your home for summertime is a matter of taking a few practical steps that make your property air tight while insuring that all systems are running as they should....

Read More
Things To Know About Your Air Conditioner Installation

When it comes to cooling down your home, there are several things that you can utilize such a fan. A fan can cool you down, but what about your home? You need something a lot bigger than a fan in order to cool your home down this summer. You can always go with a Marietta...

Read More
If you're looking for emergency air conditioning repairs call DR Cool at 678-952-2323, or fill out our online request form.