Professional Commercial Air Conditioning Services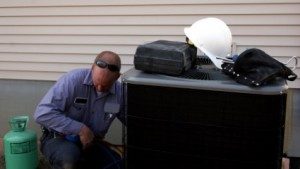 Since your commercial air conditioning equipment is vital for a comfortable indoor business environment, it will need attention from time to time.
No commercial business needs to deal with an air conditioner that constantly causes trouble. Whether you have a newer cooling system or older, maintenance is important.
Repairs should happen in a timely fashion, as soon as you realize something is wrong, so further damages aren't caused by weak parts.
Dr. Cool can help you with commercial air conditioning repairs, emergency AC repairs, replacement, and maintenance. Let our Air Conditioning Contractor offer you a free upfront estimate you're sure to love.
All Makes & Models
Expert Workmanship
Quality Service
Reliable Technicians
Honest, Upfront Communication
Commercial Air Conditioning Repairs & Emergency AC Service Available
So you find yourself with a broken down air conditioner that could possibly cost business if not repaired quickly. Your customers are coming in or already there to find a hot, humid, stuffy atmosphere.
You know if you don't call in a technician who will respond fast and make the right repairs quickly, it could mean turning customers off and letting employees go home.
In these situations, who are you going to call? Do you have an air conditioning company you can rely on to make quick and efficient commercial repairs and get them done right so you can rely on your system?
Dr. Cool is here to help you with your problem. Our highly skilled commercial air conditioning technicians will respond to your call quickly and ensure your cooling system is functioning properly.
24/7, we are ready to help, so keep our number handy.
Commercial Air Conditioning Replacement
Every air conditioning system has a limited lifetime of use. At some point, your commercial air conditioner will need to be replaced. If yours has reached this time, or if you have already been told it's drawing near, let our Dr. Cool experts take a look at it.
We'll give you honest advice about replacement. There comes a time when it's more budget wise to replace an air conditioner instead of dealing with continual repairs.
Yours may not yet be at that point. If it is, you'll find we have some great new systems that are highly energy efficient.
Commercial Air Conditioning Maintenance
Maintaining your commercial air conditioning equipment is important if you want it to last. Dr. Cool are the experts to call for maintenance. We can set up a schedule with you tailored to your unique business needs. Let us help your business to stay cool and comfortable all season!
If you are looking for Commercial Air Conditioning services, please call the Dr. Cool experts at 678-952-2323 or complete our online request form.